Curricula and Essays on the Teaching of Evolution
Open Access
A No-Holds-Barred Evolution Curriculum for Elementary and Junior High School Students
Evolution: Education and Outreach
2007
1:18
Published: 21 November 2007
Abstract
Understanding the basic mechanism of evolution by natural selection together with examples of how it works in nature is crucial for explaining and teaching the workings of biology and ecology to young students. Dobzhansky said it best in his advice to educators of biology: "Nothing in biology makes sense except in the light of evolution." This premise is true at all levels of biology but especially so in the elementary years where foundations of science knowledge are laid. Elementary students are capable of learning cohesive and connected stories of biological principles and learning them within a no-holds-barred arena wherein concepts and processes usually reserved for high school years are taught with special care, appropriate exercises, and patient explanations. This story must include solid introductions to the fundamental principles of evolution by natural selection that are threaded within and alongside those of basic biology and ecology. This paper attempts to make the case for the inclusion of connected stories of biology in the earliest years of education and to include within that education the unifying theme of all biology and ecology studies—evolution.
Keywords
Elementary evolution educationEvolution educationElementary science educationElementary biology education
Introduction
Dobzhansky's (1973) famous warning that "nothing in biology makes sense except in the light of evolution," provides convincing and sufficient reason for teaching evolution not only as a part of biology but as its foundation. Because evolution is so basic to all study of biology – and ecology as well – its study should begin with the first introduction of biology to very young students. Convincing the public of Dobzhansky's rule has not been overly successful, as judged by elementary science teaching curricula, elementary science textbooks, or state learning outcomes for elementary students (North Carolina State 2006). The public and their school administrative systems seem to have the view that there is "biological science" and there is "evolution." This perceived separateness thus allows for the teaching of biological fact without consideration of how the facts got there—biology works and so it is. This fragmented view of the presentation of the natural world leads also to a fragmented and largely unconnected content presentation in the teaching of biology. Such soundbite-type presentations of biological topics do not promote a cohesive understanding of the "story" of biology. Teaching the story of biology is crucial to its full understanding, and evolution – as the basis of all of biology – must be taught along with connected biology content.
Biology teachers, and students too, of middle and high school know well the problems associated with (a) teaching the facts of biology without theme and (b) attempting to teach biology as a story. The two concepts are opposites of each other. When biology is taught as a story, the facts of biology flow as its theme. The unifying concept of evolution provides the connecting link that ties the facts of biology into its story.
The curriculum discussed here is based on the concept of teaching biology as a connected and thematic story and also on experience with teaching young children that strongly supports the premise that they can easily handle both concrete and abstract scientific principles and they can apply these to stories of biological structure and function (Fail 1995, 2003). As with a previous curriculum published with respect to the teaching of ecology (Fail 2003), this evolution curriculum is designed as a year-long and once-per-week series of classes that, like ecology, requires an understanding of basic principles of physics and chemistry and biology taught on a need-to-know basis. The curriculum is designed to be taught both as a course in its own right and also as a series of topics to be taught as judged appropriate by the teacher within the context of elementary studies of biology and ecology.
The Context of Evolution in Elementary Curricula
The case for the introduction of evolution in the elementary grades is well put forth within the National Science Education Standards released by the National Research Council in 1996 in conjunction with the American Association for the Advancement of Science (
1993
) and the National Science Teachers Association (
1992
). The case is summarized in
Teaching About Evolution and the Nature of Science
(National Academy of Sciences
1998
). The standards note in general that, "...all K-12 students should develop understanding and abilities aligned with the following concepts and processes:
Systems, order, organization

Evidence, models, and explanations

Form and function"
With respect to K-4 grade levels, the life science standard notes that: "...elementary school children ought to be able to understand and address questions such as: How do plants get food? How many different animals are there? Where did the dinosaurs go? Why do some animals eat others?..." and further, that one goal is "to begin to understand the complex interaction among all components of the natural environment."
The standard for grades 5–8 notes "...students should develop an understanding of:
Structure and function in living systems

Populations and ecosystems

Reproduction and heredity

Diversity and adaptations of organisms

Regulation and behavior"
Such standards demand a quite thorough understanding by teachers of biology, ecology, evolution, and how they interact at basic levels.
Elementary teachers have always had to be adaptable to teaching a wide range of subjects, and the teaching of science can be daunting even for specialists, so asking teachers to teach a cohesive story of biology is asking a lot. Yet, if biology, its associated ecology, and underpinning evolutionary processes are to be effectively learned by future citizens, their teaching must begin early and it must be thorough, "no-holds-barred," and story-based (Fail 2003). Asking "generalist" teachers to bring a story of basic biology and ecology together with evolution into their curriculum can be especially troublesome both at academic and at public school administrative levels. Thus, one of the goals of this curriculum is to have it fit into a general ecology-connected biology curriculum such that principles of evolution may be taught as a separate unit following the acquisition by students of a thorough biological–ecological knowledge base or "sprinkled" throughout the basic biology–ecology curriculum.
A guide to the place of evolution in a biological–ecological curriculum is provided in Figs.
1
,
2
,
3
, and
4
. In these depictions, biology, ecology, and evolution are interwoven and connected with each other, abiding by "Dobzahnsky's dictum." Each figure outlines, from different perspectives, the interaction of the three curricular components and how they lead to a cohesive story of how the natural world works.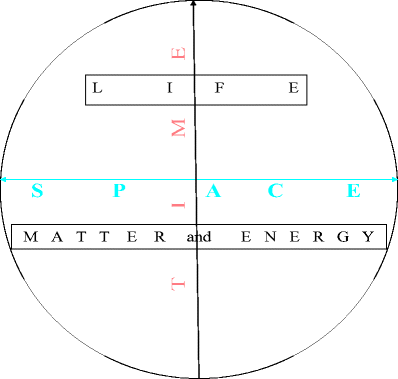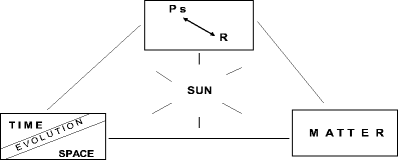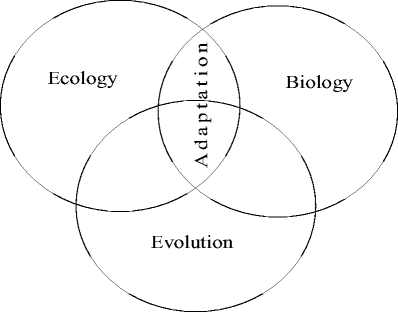 Figure 1, for example, illustrates the interaction of biology (life) with environment (space) through time (evolution). The others do also, and each are ways for teachers and students who are nervous or intimidated about biology and science to realize connections of the components to each other and to cement in their thinking that all parts are inter-related. All parts are discussed here and in a previous paper (Fail 2003) that this one ties into.
The curriculum units that follow from this philosophical framework are:
I

Overview of biological levels of organization

II

Chemical structure and function

III

IV

Biology: cells and organisms

V

Biology: information storage and transfer

VI

VII
The Knowledge Base
Sections 1 through 6 of this curriculum have been outlined previously (Fail 2003)—and taught to elementary classes several times. The "no-holds-barred" nature of the actual teaching mirrors the titles of the curriculum units. The teaching starts with the basic structural attributes of nature – atoms and molecules – then notes how they interact with energy through the first and second laws of thermodynamics. Biological structure and associated function is then studied including the molecular aspects of information storage and transfer. Biological energy processing is studied through analysis of photosynthesis and respiration, which in turn is related to environmental factors – especially temperature and light – and then nutrient cycling is related to the previous energetics study, and all of these processes are tied together with biological structure to create a solid story of ecosystem structure and function (Fail 2003).
It is a mistake to think that evolution can be taught without a basic understanding of biological structure and function (and vice-versa, that biological structure and function can be truly understood without a basic understanding of evolution by natural selection), and so that is where the curriculum must start. To understand how genes and cells work, though, there must also be a basic understanding of how matter and energy work together; thus, chemistry and physics on a "need-to-know" basis are taught as "preparatory topics," which must be understood to then understand the biological structure and function of the world we live in. The basic introductory curriculum syllabus, then, is essentially a mixed biology and ecology set of lessons that set the stage for understanding the mechanisms and principles of evolution by natural selection (Fig. 4). When this last piece of the puzzle of biology is in place, then the student begins to see into the past, understand the present, and logically consider the future. Students can then start telling their own stories of biology.
It bears repeating that the methods of teaching the material leading up to evolution must be story-like, hands-on, active, student-creative, and fun. It should also include a number of quantitative investigations that require students to measure, record, organize, and transform data, and finally to interpret their investigations. A number of methods of doing this are presented by Fail (2003) in his paper on teaching ecology to elementary students.
Introduction to Evolution
Conclusion
The story of biology is too exciting. What other explanation is there for treating the discipline so patchily, so un-story-like in the elementary grades, and indeed throughout high school as well? Of all the disciplines that a student is subjected to over the course of their years of formal education, none is more amenable to exciting story-telling than biology. The scientifically unquestioned unifying thematic story in all of biology is that of evolution by natural selection. The story of its mechanisms, the stories of its pathways and its results – including the students themselves – and its adaptability for hypothesizing the fate of the planet make understanding evolution a key to citizen involvement in science. That story is so endlessly filled with adventure that very young students may sit for hours, if properly guided in the flow of biological story-telling, pondering questions and puzzles posed by its study. As a group learning vehicle, the study of biology together with its interaction with the environment leading to evolutionary change has no equal as a means to foster and focus directed creative student effort and study.
The telling of that story is also the near perfect venue for writing practice—the only true way to learn how to write competently. When students have a clear understanding of the story of biology and its basic driving forces and mechanisms, they may use their knowledge to write true stories that illuminate the workings of the world around them.
Finally, if we as a people hope to provide solutions to the global ecological threats to our planet, then we must have a citizenry that understands clearly the effects of our individual and collective actions on future generations. Understanding the story of biology and its relationship to the environment and the endless life process of adaptation to environmental change – evolution – is crucial to this effort.
Authors' Affiliations
(1)
Department of Natural Sciences, Johnson C. Smith University, Charlotte, USA
(2)
Sabbatical Scholar, National Evolutionary Synthesis Center, Duke University, Durham, USA
Copyright
© Springer Science+Business Media, Inc. 2007