Original Scientific Article
Open Access
The Causes and Consequences of Color Vision
Evolution: Education and Outreach
2008
1:88
Received: 13 June 2008
Accepted: 8 September 2008
Published: 2 October 2008
Abstract
The ability to see colors is not universal in the animal kingdom. Those animals that can detect differences in the wavelengths of the electromagnetic spectrum glean valuable sensory information about their environment. They use color vision to forage, avoid predators, and find high-quality mates. In the past, the colors that humans could see clouded scientists' study of animals' color perception. Leaving that bias behind has led to new insights about how and why the color vision of animals evolved. This paper provides a brief introduction to color vision, the genetics of color vision in humans, what colors other animals see, and how scientists study color vision. We examine the consequences of having color vision, including speciation, loss of olfactory capabilities, and sexual selection.
Keywords
Adaptive colorationColor visionCrypsisEvolutionEyePerceptionSexual selectionVisual communication
Introduction: Seeing a World in Color
Most humans see the world in color. Our visual system has evolved to let us perceive a rich color palette, one that can make sense of subtle blue hues in a night sky as well as brilliant reds and yellows in a bird's plumage. Somewhat naturally, we have assumed that other animals sense colors much as we do. What is more, it seemed that animals lacking color vision had a sensory deficit. But scientists studying color vision are putting both those assumptions at bay. Recent behavioral, phylogenetic, and neurological studies, among others, indicate that some animals perceive a multicolored world invisible to humans, whereas others, whose visual systems evolved to operate in dim light, view their world in textured shades of black and white.
The realization that humans do not see the same color world that most animals see has been important for behavioral and evolutionary studies of a wide array of signals that include crypsis, mimicry, warning coloration, fruit and flower coloration, and sexual dimorphism (to name a few, Endler 1990, Bennett et al. 1994). What is important for the evolution of these traits is the color vision of the intended audience of these signals, be that a predator, pollinator, or potential mate. Indeed, it has been suggested that color is not an inherent property of an object but a property of the visual system of the organism that perceives it (Endler 1978). In other words, the exact same wavelength spectra reflecting off an object will be perceived as different colors depending on the absorption spectra of an animal's photoreceptors.
In this paper, we provide a brief introduction to color vision, the genetics of color vision in humans, what colors we think other animals can see, and how scientists study color vision. We then examine the consequences of color vision for communication between plants and animals as well as males and females, and then the confounding selection pressures of communicating with conspecifics while hiding from predators. Finally, we examine the question of why all organisms do not see colors and look at some animals whose visual capabilities defy expectations.
Some Definitions
For an organism to see colors, its visual system must compare signals that originate in different photoreceptors in the retina. In Eye, Brain and Vision, researcher David Hubel calls the human retina an amazing structure: "It translates light into nerve signals, allows us to see under conditions that range from starlight to sunlight, discriminates wavelength so that we can see colors, and provides a precision sufficient for us to detect a human hair or speck of dust a few yards away" (Hubel 1988). To understand how the retina extracts visual information from the environment, it is helpful first to understand some basic terms.
The retina records and compares light intensities using two basic kinds of photoreceptors: rods and cones. Rods allow for vision in dim light and have only one photopigment, whereas cones are responsible for color perception and have more than one class of photopigments. The genes crucial to production of the photopigments in cones and rods are called opsins (see side article, "Genetics of Human Color Vision").
Trichromacy, the variety of color vision found today in most Old World primates including humans, describes vision based on three classes of cone photoreceptors—in short, the ability to discern reds, greens, and blues. Dichromatic vision, then, relies on data from only two classes of cones. A higher percentage of human males than females are considered functional dichromats, which still allows for color discrimination (Fig.
1
a); however, their color deficiency is commonly called color blindness. In the most common form of dichromacy in humans, individuals cannot differentiate between reds and greens (Hubel
1988
). When only one class of cones is functioning, the organism has monochromatic vision; since color vision depends on a comparison of signals, this type of vision does not allow for color perception.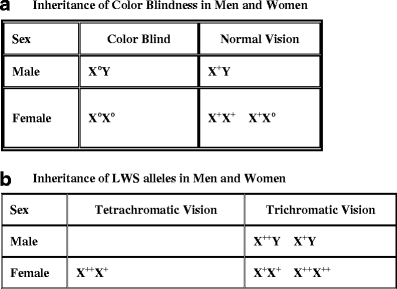 The physiological and genetic makeup of various animals' retinas varies widely—the types of photoreceptors present and ratio of cones to rods are just two examples—and thus, not surprisingly, their visual capabilities show great diversity.
What Colors do Animals See?
Many differences exist between what humans and other animals can see. Some animals, among them frogs, fish, some rodents, and many marsupials, can see ultraviolet (for reviews see Bennett et al. 1994). However, the differences between what humans see and what other animals see are likely to go well beyond our inability to see ultraviolet.
Research suggests that birds may have the most sophisticated visual system of any vertebrate. They likely see hues that we cannot imagine. Many birds have five classes of cones, and some species of birds see ultraviolet. In addition, a bird's visual system includes oil droplets thought to act as filters of light entering individual cones (Bennett et al. 1994). Scientists do not know how this increased dimensionality enhances the colors that birds perceive. Many reptiles have color vision, and researchers have learned that diurnal lizards have four types of cones and colored oil droplets, suggesting they probably have tetrachromatic color vision (reviewed by Roth and Kelber 2004).
Old World monkeys, apes, and humans all enjoy trichromatic color vision (Jacobs 1993), but most terrestrial mammals are cone dichromats, and like the small percentage of humans with dichromatic vision, they likely can distinguish only a limited number of colors (Peichl et al. 2001; reviewed by Jacobs 1993). Of the ungulates studied to date, such as horses, pigs, goats, cows, sheep, and deer, all have the photopigment basis for dichromatic color vision (Carroll et al. 2001). Similarly, researchers studying the color vision of dogs have confirmed they are dichromats. In addition, they have found that the cones present in the central area of a dog's retina are low in number, probably representing less than 10% of the total photoreceptors present. Interestingly, the same area of the human retina consists predominately of cones. Presumably, the canine visual system's greater reliance on rod photoreceptors allows a dog to function well in dim light, making it a more effective predator in its ecological niche (Neitz et al. 1989; Miller and Murphy 1995).
Even among humans, men and women may perceive colors differently. For instance, using genetic analysis and behavioral tests, researchers at the University of California San Diego explored gender-linked differences in color perception, in particular, the sensory experience of women who have an extra photopigment in their retinas. Some estimates suggest four-photopigment females represent up to 50% of the female population; 8% of males are presumed to have four-photopigment retinas (Neitz et al. 1998). Their study suggested that women with four-photopigment retinas perceived more chromatic bands in the typical rainbow spectrum than either men or women with trichromatic retinas (Jameson et al. 2001).
Other scientists' work on the genes involved in human color vision suggests that even among those of us who can discriminate red colors, we may be perceiving different reds. Researcher Samir Deeb and colleagues at the University of Washington have been studying how the genetic makeup of an individual's retina affects color perception. In one study, they learned that approximately 40% of men with normal color vision had the amino acid alanine in their red pigment, whereas 60% had a different amino acid, serine, at the same spot (Winderickz et al. 1992, Fig. 1b). The pigment with serine is shifted to red, the one with alanine to green, explained Deeb in a phone interview. "It's not a big shift but still really quite exciting," he said. "It affects not only normal color vision, but also the severity of abnormal color vision."
How Scientists Study Color Vision in Different Organisms
Humans' perception of color has shaped how scientists have studied color vision, leading to some misconceptions concerning why and how color vision evolved (Endler 1990; Bennett et al. 1994). The differences between the color vision of humans and the animals that the color patterns are directed toward could mean the difference between assuming an animal that is "brightly" colored is conspicuous, possibly attempting to attract a mate, and that the colors function as camouflage (Marshall 2000). Information gleaned from genetic studies is helping us rethink other assumptions about how animals perceive color. In the past, much of the psychological literature attributed differences between how women and men process color information to environmental factors; for instance, young girls' ability to identify primary colors by name better than young boys was explained by their greater verbal ability and interest in colors. But recent opsin gene analyses show that many females possess more than three photoreceptor pigments, indicating that there may be a genetic explanation for gender-based color perception differences (Jameson et al. 2001, See Fig. 1b) As new techniques and methods of examining colors and color vision are developed that do not rely on human color vision, we learn more about the diversity of colors and color vision across animals. Indeed, we have used these methods to learn more about color vision within humans as well (see above).
The measurement of colors independently of human vision has recently become practical with the use of spectoradiometers. While these devices can make measurements of the physical properties of colors, even the way in which the data is scored can introduce human bias if the measurements are then converted into color codes based on human perception. Scores that are independent of our perception of colors have been developed (see Endler 1990) and make it possible to examine the ability of animals with color vision perception very different from ours. But how do scientists determine the differences between spectra other animals can perceive? Behavioral studies, one of the most reliable methods scientists use to determine what colors an animal can see, do not require complex molecular techniques or sophisticated machines. In the early 1900s, Karl von Frisch, an Austrian naturalist and winner of the Nobel Prize, questioned the commonly held assumption that fish were color-blind. One of his main opponents was Karl von Hess, the director of Munich Eye Clinic, who primarily disagreed with von Frisch's reasoning that natural selection would act on the senses of animals. Von Frish was able to demonstrate that fish could indeed perceive colors by training minnows to respond to colored objects. Today, scientists still use behavioral color discrimination experiments to determine what colors animals can see. To study the color vision of nocturnal geckos, for instance, researchers trained the geckos to choose between two cues, blue and grey stimuli, rewarding them with untreated "tasty" crickets or negatively reinforcing choices with treated "untasty" crickets (Roth and Kelber 2004).
Not all organisms lend themselves to behavioral studies. Another method to examine the potential for color vision employs molecular genetic analyses to determine what opsin genes an organism possesses. Genes that code for the different retinal photopigments sensitive to particular wavelengths of light can be detected with DNA sequencing. Therefore, it is possible to determine with a small piece of tissue if an animal possesses the genes necessary to make the photopigments to detect different colors. This method helps us learn about animals difficult to study in the wild, like the endangered aye-aye. Researchers who were able to obtain DNA samples of eight aye-ayes available at a few international research institutions gained a better understanding of how this nocturnal primate retained some color vision (Perry et al. 2007).
It is important to note, however, that having a gene for a particular protein does not necessarily mean that the information in that gene is used to actually make that protein. In other words, not all genes that an organism has are expressed all the time, or in some cases ever. Some genes are only expressed during development, and others are not expressed unless there is another gene or a particular environment present. Therefore, a third method to determine color perception of an animal involves postmortem analyses to see if the photopigments necessary to detect certain colors are present in their retinas. This may seem like the ultimate method to answer the question "what colors do animals see?" but it is not. While the number and spectral sensitivities of the photopigments usually give scientists a pretty good idea of what colors an animal can detect, behavioral experiments have shown that this is not always the case. The butterfly Vanessa atalanta has three photopigments but was unable to discriminate colors in the long wavelength range, while Heliconius erato, a butterfly that also has three photopigments, was able to discriminate colors in the long wavelength range (Zaccardi et al. 2006). In the case of these butterflies, the answer to this discrepancy appears to be molecules other than opsins found in the retina cells that can filter light and modify spectral sensitivity. However, it is also possible that the neurological processing of the information provided by the eyes may differ across organisms. Indeed, one study shows that the mammalian brain is flexible enough to readily make use of information from opsin proteins (Jacobs et al. 2007). Jacobs and his research colleagues genetically engineered mice to have an additional, slightly different long-wavelength-sensitive (L) pigment; through behavioral tests, they discovered the mice could immediately distinguish a broader spectrum of colors. Therefore, it is important to remember that evidence for color vision is likely best derived from a combination of studies, including molecular, physiological, and behavioral.
Finally, our understanding of the evolution of color vision has benefited greatly from the use of comparative phylogenetic studies. These studies can use the evolutionary relationships among different organisms (represented in phylogenetic trees) to examine the evolution of color vision in relation to the context in which it may have evolved. Even though it is possible to determine how color vision benefits an organism in the present, current function does not necessarily tell us when or in what context color vision initially evolved (Gould and Vrba 1982; Greene 1986; Baum and Larson 1991). Determining the performance advantage that initially selected for color vision requires evidence of phylogenetic congruence between the origin of color vision and the performance advantage (Greene 1986). So, for example, a comparative phylogenetic study was used to determine if primates evolved trichromatic color vision as a means of finding red fruits among the green foliage or to find high-quality mates (see Fig. 3).
The Consequences of Color Vision
Color vision provides organisms with important sensory information about their environment. For instance, the ability to distinguish colors allows organisms to detect and recognize two very important objects—food and mates. What colors animals can detect will influence their ability to forage and hunt, avoid predators, and select quality mates. Here we review a few key examples of each of these different consequences of color vision. In addition, as not all of the consequences of color vision are beneficial, we examine the tradeoffs associated with color vision, which could help explain why not all animals have the ability to detect colors.
Studying the Unexpected
The quest to better understand color vision evolution often leads scientists to consider the unusual, those animals whose visual capabilities defy expectations. The following are examples of a few animals whose fascinating visual systems do not appear particularly well-adapted to their environment. Indeed, we are still being surprised by what we are learning.
For instance, a recent study considered whether an animal that is fully nocturnal requires color vision. Researchers looked at the molecular makeup of the visual system of the endangered aye-aye, the world's largest nocturnal primate. A Madagascar native, these primates split from other groups including humans, apes, and monkeys more than 60 million years ago. The results of genetic analyses of DNA samples from eight ayes-ayes were surprising. Expecting that the opsin genes of a nocturnal animal that does not need color vision to operate in a nighttime environment would have mutated or degraded, the researchers discovered the opposite: the opsin genes appeared to be fully functional. While it is apparent that the aye-ayes have the genetic hardwiring to see colors, it is still unknown if they do. Future behavioral studies may help to determine if the aye-ayes respond to colors (Perry et al. 2007).
We once thought animals could not see colors at night. But research has shown that a night-active vertebrate, the helmet gecko, not only sees color, it uses cone-based color vision to see in dim moonlight situations when humans are colorblind. The gecko is unusual among nocturnal vertebrates, for it has no rods, but three cone types sensitive to ultraviolet, blue, and green light. In contrast, almost all vertebrates have a dual system with multiple cones and a single rod; the nocturnal species typically have higher rod ratios. Thus, nocturnal geckos have lost the red-sensitive cone but adapted to their dim-lit environment and still retained color vision. Researchers Roth and Kelber, who note that only nocturnal moths have been found to share the geckos' nighttime color vision ability, suggest that geckos exploit it to forage for well-camouflaged food, navigate landmarks, and find partners (Roth and Kelber 2004).
Some organisms, like the cuttlefish that Woods Hole senior scientist Roger Hanlon studies, are camouflage experts that can transform their body's coloration from high-contrast checkerboard patterns to subtle hues that match the environment (Zimmer 2008). It seems they must be able to see colors to be so colorful themselves. But the evidence says they cannot. Even Hanlon, who has hundreds of photos showing their color matches to background, thought they should be able to see colors. But he noted that they "flunked" a behavioral assay for color vision (Mäthger et al. 2006). "The cephalopods can work in a colorful world like a coral reef—avoid predators with phenomenal color and night vision and communicate with conspecifics—without being able to discriminate color themselves," he said in a phone interview. So Hanlon and his colleagues are looking at a number of mechanisms—other than color vision—to help explain the cephalods' colorful camouflage patterns. One such mechanism involves a possible hidden communication channel that employs polarized light, which cephalopods and stomatopods can see. His research shows that the reflectors in the skin of the cuttlefish not only provide colorful iridescence but also reflect off polarized light. Perhaps the cuttlefish send polarized signals to conspecifics at the same time that their camouflage tricks predators like fish, most of which are not sensitive to polarized light (Mäthger and Hanlon 2006).
Along with Hanlon, a number of color vision researchers are exploring the existence of multiple photodetection systems and other mechanisms by which animals extract information from light.
Conclusion
In recent decades, scientists have looked intensely at the visual system of vertebrates, and perhaps "myopically focused on rod and cone photoreceptors and the visual information they deliver," researcher Russell D. Fernald noted in a Science review (Fernald 2006). But that focus has expanded. Researchers now are certain to bring the science of genomics, phylogenetics, animal behavior, and neurology to the discussion. We are likely to learn more about parallel sensory pathways, discover new opsin genes, or find old ones in new places and, overall, gain a better understanding of how animals, including humans, see and use colors to forage, survive, and mate.
Declarations
Acknowledgements
The authors wish to thank Samir Deeb, Tamara Frank, and Roger Hanlon for granting phone interviews.
Key definitions
Opsins
the protein that makes up the photopigments found in rods and cones
Rods
the cells in the retina that contain the photopigment rhodopsin and are sensitive to low light
Cones
the cells in the retina that contain photopigments with overlapping absorption spectra allowing for color perception.
Allele
an alternative form of a gene (one member of a pair), located at a specific position on a specific chromosome.
Heterozygotes
having two different alleles for the same gene.
Gene family
a set of related genes, almost certainly formed by duplication of an ancestral gene, and having a recognizably similar sequence. The globin gene family is an example.
Authors' Affiliations
(1)
Ohio University, Athens, USA
Copyright
© Springer Science+Business Media, LLC 2008