Original Scientific Article
Open Access
The Evolution of Marine Reptiles
Evolution: Education and Outreach
2009
2:139
Received: 8 October 2008
Accepted: 6 April 2009
Published: 19 May 2009
Abstract
Reptiles have repeatedly invaded marine environments despite their physiological constraints as air breathers. Marine reptiles were especially successful in the Mesozoic as major predators in the sea. There were more than a dozen groups of marine reptiles in the Mesozoic, of which four had more than 30 genera, namely sauropterygians (including plesiosaurs), ichthyopterygians, mosasaurs, and sea turtles. Medium-sized groups, such as Thalattosauria and Thalattosuchia, had about ten genera, whereas small groups, such as Hupehsuchia and Pleurosauridae, consisted of only two genera or less. Sauropterygia and Ichthyopterygia were the two longest surviving lineages, with 185 and 160 million years of stratigraphic spans, respectively. Mesozoic marine reptiles explored many different swimming styles and diets. Their diet included fish, cephalopods, other vertebrates, and hard-shelled invertebrates, whereas no herbivore is known at this point. Sauropterygians and ichthyopterygians gave rise to cruising forms that probably invaded outer seas. Intermediate forms that led to the cruising species are known in Ichthyopterygia but not as much in Sauropterygia. Discovery of new fossils should eventually reduce the gap in the fossil record.
Keywords
Marine reptileMesozoicPlesiosaurIchthyosaurMosasaur
Introduction
The Mesozoic era is often referred to as the Age of Dinosaurs. However, it was not only the dinosaurs that prospered during the time period. The Earth always had more ocean than land. Even so, dinosaurs never became sea dwellers except some birds (birds are a part of dinosaurs). Instead, other groups of reptiles have invaded marine habitats with varying degrees of success many times since the Permian (Carroll 1982), as they still do today. They were successful in becoming marine predators during the Age of Dinosaurs, when there were no mammalian competitors. These groups of sea-going reptiles are collectively called Mesozoic marine reptiles.
More than a dozen groups of marine reptiles are recognized from the Mesozoic (Carroll 1982). Four of them are probably better known than the rest, namely plesiosaurs that are considered to be the model of the imaginary Loch Ness monster (Giles 2006), ichthyosaurs that looked somewhat like a shark or dolphin, mosasaurs that resembled monitor lizards such as the Komodo dragon in some anatomical aspects, and sea turtles that belong to the same lineage as the living forms. Some of them were giants, reaching 20 meters in total length (Nicholls and Manabe 2004), whereas the others were small, reaching only about 40 centimeters (Rieppel 2000). Some were adapted to cruising long distances (Motani 2002a, b), whereas the others were more suitable for ambushing (Massare 1988; O'Keefe 2001).
Reptiles originally descended from early limbed vertebrates that invaded the land about 70 million years before the Mesozoic (Benton 2004). These reptilian ancestors lost their gills at one point in time, so their descendents could not breathe in water unlike fish or some amphibians. They have to come to the water surface to breath the air as they swim, just like humans and dolphins. Such an apparent disadvantage, however, did not deter reptiles from re-invading the water.
Reptiles are "cold blooded", i.e., they rely on the heat from external sources (a condition called ectothermic) such as the sun to maintain their body temperature, which fluctuates greatly according to the ambient temperature (a condition called poikilothermy). These physiological traits may appear disadvantageous for living in water because water takes away body heat more efficiently than air. However, reptiles may indeed be more suitable for invading aquatic environment than birds or mammals (Seymour 1982; Brischoux et al. 2008), as long as the surface water temperature is sufficiently high (about 20°C).
Reptiles have at least three advantages over endotherms. First, reptiles are more tolerant of lower body temperatures. The pelagic sea snake Pelamis, for example, can tolerate body temperatures between 18°C and 33°C (Graham 1974), whereas most mammals would not be able to survive such low body temperatures. Marine mammals maintain much higher body temperatures, between 35°C and 39°C, regardless of the ambient temperature (Whittow 1987) by spending extra energy. Second, reptilian physiology has an advantage of "fuel efficiency." Thanks to their slower metabolic rates, reptiles consume much less oxygen per second than mammals do, which in turn means that they can do without breathing for a longer time given the same amount of oxygen stored in the body. Third, they can tolerate anoxia better in case of oxygen shortage. These characteristics enable reptiles to stay longer in water than mammals of equal body mass on average.
The purpose of this contribution is to review the evolution of marine reptiles with emphasis on Mesozoic forms. It is beneficial to learn from living species first, so I will start by briefly reviewing extant marine reptiles.
Definition of Marine Reptiles
It is firstly important to define the phrase "marine reptile." Each of the two words requires clarification to avoid confusion. First, the word "marine" is restricted to those vertebrates that feed almost exclusively in the sea in this contribution. This is stricter than the more common usage where any vertebrate that spends time at sea at all is included. The restricted usage is preferred here to remove ambiguity. About 250 species of extant reptiles live in haline habitats or occasionally invade them (Wilfred 1958). Extreme examples are large reptiles in the Southeast Asia–Australia, namely the saltwater crocodile (Crocodylus porosus), Asian water monitor (Varanus salvator), and reticulated python (Python reticulatus). They can swim across long distances in the ocean (e.g., Rosenzweig 2001; Borden 2007) and at least the crocodile and monitor lizard may even feed on fish, but they spend most of their time in other places through a year. The saltwater crocodile especially is often considered marine, but it is unclear whether it is more marine than the Asian water monitor, which is seldom called marine. The restricted usage of "marine" in this contribution would remove all of these ambiguous animals from consideration as marine reptiles.
Second, the word "reptile" is restricted to those vertebrates that are called reptiles in common English (i.e., "lizards," snakes, tuataras, crocodiles, and the fossils related to them). Birds are descendants of some reptiles, so they are reptiles themselves in a strict sense. However, inclusion of birds, which are warm-blooded, would obscure the discussion. I therefore remove birds from "reptiles" in this contribution. In summary, "marine reptiles" in the current context are all reptiles except birds that feed almost exclusively in the sea.
Living Marine Reptiles
Four lineages of living reptiles are considered marine in this review but only one of them is fully aquatic. The four are true sea snakes (about 50 species), sea turtles (eight species), sea kraits (second lineage of sea snake—about five species), and the marine iguana (Márquez 1990; Rasmussen 2001). Note that the saltwater crocodile, which is sometimes considered a marine reptile, is not included among marine reptiles here, as discussed above. The true sea snakes are the only lineage that almost never leaves the water—they even give live birth in water (Rasmussen 2001). Sea kraits, on the other hand, spend more time on land than at sea (Brischoux et al. 2008). However, they are very capable of swimming, diving to about 80 meters during their hunting trips. They capture their prey in the sea but rest on land to digest it. Sea turtles are almost fully aquatic but at least females still need to return to land to lay eggs.
Living marine reptiles are tropical to subtropical in their distribution, except for some sea turtles that are distributed into the colder waters, such as the gigantic leatherback turtle (Márquez 1990). This is in contrast to marine mammals, some of which tend to exclusively occupy high latitudes (Jefferson et al. 1993). The difference ultimately comes down to their physiology. Reptiles are ectothermic and have difficulty sustaining a minimally required body temperature (about 18ºC) in cold waters unless the body is adapted to slow down the cooling through, for example, having extra insulation and large body size as in large sea turtles. This prohibits small marine reptiles from moving between the Pacific and Atlantic oceans. A good demonstration of this constraint is the geographic distribution of sea snakes. Sea snakes are not known from the Atlantic, although at least one of them is pelagic and therefore is capable of swimming that far (Graham et al. 1971). Sea turtles, on the other hand, are capable of swimming around South Africa to move between oceans.
Mesozoic Marine Reptiles
At least a dozen groups of marine reptiles can be counted in the Mesozoic fossil record, containing a minimum of 250 genera. Four major groups are Sauropterygia (Fig.
1
b, c), Ichthyopterygia (Fig.
1
e), Mosasauridae (Fig.
1
a), and Chelonioidea (sea turtles; Fig.
1
d), all of which have about 30 genera or more (Table
1
). Four other groups, namely Thalattosauria (Fig.
1
f), Thalattosuchia, and two groups of turtles, were medium sized, each containing about ten genera. The rest of the groups were smaller, with five or less genera per group.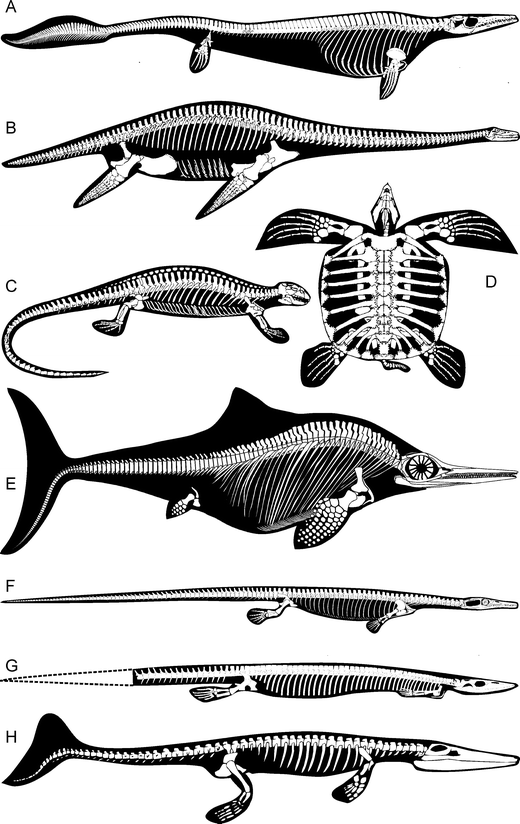 Table 1
Generic diversity of Mesozoic and extant marine reptile groups
Time

Group

(Subgroup)

Generic diversity

Extant

Sea snake

16

Sea turtle

6

Sea krait

1

Marine iguana

1

Mesozoic

Sauropterygia

Placodontia

ca. 10

Plesiosauria

ca. 70

Others

ca. 20

Ichthyopterygia

ca. 40

Mosasauroidea

Mosasauridae

ca. 30

Others

ca. 10

Marine snakes*

ca. 5

Chelonioidea

ca. 30

Thalattosauria

ca. 10

Thalattosuchia

ca. 10

Marine Pleurodira

ca. 10

Marine Cryptodira

ca. 10

Pleurosauridae

2

Hupehsuchia

2

Qianosuchus

1

Sikannisuchus

1
Two of the four major groups appeared in the Early Triassic (Rieppel 2000; McGowan and Motani 2002), whereas the others are first recorded from the Early (Chelonioidea) and Late (Mosasauridae) Cretaceous (Hirayama 1998; Jacobs et al. 2005). The groups that emerged in the Jurassic, namely Pleurosauridae (Fig. 1g), Thalattosuchia (Fig. 1h), and two groups of turtles, were less successful. Sauropterygians and ichthyopterygians survived the longest by lasting for more than 150 million years each. Sea turtles are also successful, having survived for the last 120 million years. Moderately long-lasting groups, such as mosasaurs, thalattosaurs, and thalattosuchians, existed for about 30 to 60 million years each. The shortest-lasting group included Hupehsuchia, which is known only from the Spathian (late Olenekian, Lower Triassic), probably not representing much more than a few million years.
A simple plot of stratigraphic ranges of Mesozoic marine reptile groups reveals a pattern (Fig.
2
). That is, new groups seem to emerge after previous occupants of the niche became extinct. For example, the Early Jurassic saw the invasion of the sea by thalattosuchians and pleurosaurs, and this was some time after most of the coastal marine reptiles of the Triassic became extinct. The two groups became extinct in the Early Cretaceous, some time before mosasaurs and sea turtles appeared. The highest diversity of marine reptiles was achieved in the Triassic.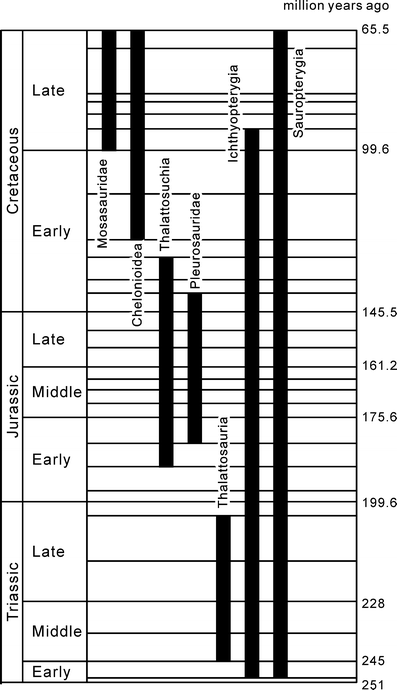 Different groups of Mesozoic marine reptile adopted different swimming styles. Plesiosaurs and sea turtles used their limbs to fly underwater (Massare 1988), whereas the other groups used their body axis, especially the tail, for propulsion. Early eosauropterygians that led to plesiosaurs probably used the limbs for propulsion (Rieppel 2000), but it is possible that the tail was also used in conjunction. Based on analysis of their teeth (Massare 1987), their diets varied greatly. Some Mesozoic marine reptiles were probably pursuit predators eating fish, cephalopods, and other reptiles, whereas the others ate benthic prey, such as hard-shelled invertebrates (Massare 1987, 1988). It is also possible that soft-bodied invertebrates, such as polychaete worms, were eaten by marine reptiles, but they are not known in the stomach regions of marine reptiles fossils probably because they rarely are preserved as fossils. There is no record of herbivorous marine reptiles in the Mesozoic, unlike in extant marine reptiles (i.e., marine iguana is an herbivore).
The reproductive biology of Mesozoic marine reptiles is partly known. Fossil evidence for live birth is present at least for sauropterygians, ichthyopterygians, and mosasaurs (e.g., Brinkmann 1998; Caldwell and Palci 2007). However, how prevalent this feature was within each group is not necessarily well known, as will be reviewed for each group. Live birth is probably a useful feature for marine reptiles but not essential for invading marine environments—three of the four living marine reptile lineages lay eggs on land, and there is no evidence to suggest that the most basal members within each Mesozoic marine reptile group, including sauropterygians and ichthyopterygians, gave live birth, except for mosasaurs. Live birth is probably even more useful to pelagic marine reptiles. However, one counterexample demonstrates that it is not a necessary condition—sea turtles invade pelagic environments yet they lay eggs.
I will now review representative groups of Mesozoic marine reptile in the following sections.
Concluding Remarks
Different lineages of reptiles invaded marine environments in the Mesozoic, giving rise to at least a dozen groups. The four major groups are Sauropterygia, Ichthyopterygia, Mosasauridae, and Chelonioidea (sea turtles). The longest lasting lineage survived for more than 180 million years, whereas the shortest did not exist beyond a few million years. Mesozoic marine reptiles showed many different adaptations. There were underwater flyers, tuna-like cruisers, as well as typically lizard-like undulatory swimmers. Some fed on hard-shelled animals whereas the others ate fish, cephalopods, and vertebrates, including marine reptiles. Intermediate forms along the evolution of new body plans are best known in Ichthyopterygia, whereas there is a large gap in the fossil record for Sauropterygia. The study of Mesozoic marine reptiles is rapidly advancing, with new fossils from China revealing new information on the early evolution of Mesozoic marine reptiles.
Authors' Affiliations
(1)
Department of Geology, University of California, Davis, Davis, USA
Copyright
© The Author(s) 2009
This article is published under license to BioMed Central Ltd. Open Access This article is distributed under the terms of the Creative Commons Attribution Noncommercial License which permits any noncommercial use, distribution, and reproduction in any medium, provided the original author(s) and source are credited.