Curriculum and education
Open Access
Jurassic Pork: What Could a Jewish Time Traveler Eat?
Evolution: Education and Outreach
2015
8:17
Received: 14 July 2015
Accepted: 21 September 2015
Published: 24 September 2015
Abstract
Paleontologists use multiple methods to reconstruct the anatomy and behavior of extinct animals, including direct observations from well-preserved fossils and inferences from the phylogeny of modern and extinct relatives. We illustrate these techniques by reference to the biblical definitions of kosher and non-kosher animals; that is, how can we apply these approaches to the hypothetical question of whether an extinct form would have been kosher. The biblical categories do not readily map to modern understandings of systematics, but are heavily based on life mode. When given, distinguishing characteristics, such as the presence of fins and scales in aquatic animals, can be readily seen directly in fossils. In other cases, such as cud chewing, they need to be inferred from the phylogenetic relationships of the fossil forms. Dinosaurs (other than birds), unfortunately, are not kosher. A kosher "paleo diet" would be increasingly difficult further in the past. The use of biblical content as a way of introducing concepts from paleontology and evolutionary biology, such as crown groups and stem groups, should be of broad interest.
Keywords
MammalsInsectsBirdsDinosaursFossilKosher
Background
A paleontologist colleague of ours was recently asked by a student whether brachiopods, an invertebrate group commonly preserved as fossils, were kosher. He posted the question on Facebook and the immediate response was "certainly not, brachiopods are shellfish!" This reminded one of us (JMT), a specialist on fossil hoofed mammals, of questions she has received on whether a particular ancient animal would have been kosher. Of course, whether or not a fossil animal would have been kosher is purely hypothetical; the surviving remains themselves would make a very poor meal. Nevertheless, discussing how paleontologists would address such a query illustrates how they think about the morphology, ecology, and relationships of extinct animals and thus gives an opportunity to introduce broader concepts from paleontology and evolutionary biology to a more general audience.
We will first review the basic characteristics that divide kosher from non-kosher animals. We will then discuss how these characteristics can be recognized or inferred in ancient fish, mammals, birds (and other dinosaurs), and insects. Note that we will not address the issue of why the rules exist or are followed or topics such as ritual slaughter or the separation of meat and milk (Donin 1972; Regenstein et al. 2003; Kraemer 2007; Zamore 2011a). We will then take a virtual time trip to different episodes of Earth history, to see what might be available for an observant Jewish time traveler to eat. Finally, we will comment on how one might use this topic in outreach and education.
Is it kosher?
The rules that govern whether an animal is ritually fit or proper (kosher) or unfit to eat are known as kashrut. Although kashrut is closely monitored by rabbinical authorities, a rabbinic "blessing" is not an intrinsic part of this (Telushkin 1991). Whereas these rules are of biblical origin, they have been interpreted, modified, and argued about over the long history of the Jewish people, up to this day (Kraemer 2007). Kashrut is based on sections of the Torah (Hebrew Bible), in particular Leviticus 11 and Deuteronomy 14:2–21. The delineation of kosher vs. non-kosher is based either on required characteristics (simanim), a list of permitted or prohibited animals, or both. The division of animals into groups relies more heavily on life mode than on current recognized relationships; for example, animals are "in the waters" or "swarm upon the earth." The affinities of many of the listed animals with modern species and higher groups are questionable and sometimes differ significantly among translations (note: we are using the translation by the Jewish Publication Society 1985). Moreover, the animals listed also reflect only those that were familiar to people living in a small portion of the ancient Middle East. As the Jewish people dispersed, they encountered a huge variety of plants and animals that were new to them, in particular the New World. The kosher status of each of these had to be decided.
Kosher mammals ("beasts that are on the earth") "have true hoofs, with clefts through the hoofs, and that chews the cud" (Lev. 11:2; Deut. 14:6). Specifically permitted animals include oxen, sheep, goats, deer, gazelle, and mountain sheep (Deut. 14:4–5); however not all of these are confidently assigned to known species. Enumerated forbidden ("unclean") animals are camels, hares, daman (rock hyrax), and pigs. Camels, hares, and hyrax are said to chew the cud but lack true hoofs, whereas swine do not chew cud, although they have true hooves. Bats are also forbidden, although they are listed with birds ("fowls", Lev. 11:19; Deut. 14:18). Similarly, moles and mice are listed as prohibited among "things that swarm on the earth," all of which are forbidden (Lev. 11:20). Leviticus 11:27 adds that animals that walk on paws are also unclean. The existence of identifying characteristics made the identification of novel kosher mammals straightforward. Bison, for example, were quickly accepted as being kosher (Zivotofsky 1999).
In contrast to the identifying characteristics that are given for mammals, birds are simply enumerated and only those that are forbidden are named. Again, there is some uncertainty as to species identity. Forbidden birds include raptors (eagles, kites, falcons, hawks, and owls); vultures, ravens, pelicans, sea gulls, storks, herons, bustards, ostriches, cormorants, hoopoes, and bats (regarded as birds in this context, but of course not members of the group Aves). Newly encountered species with the same basic characteristics (birds of prey, scavengers, ratites) were similarly banned. Since identifying characteristics are not given, currently permitted birds are strongly based on documented tradition (mesorah); i.e., "we have always eaten them" (Hoffman 2010; Zamore 2011b). These include domesticated groups such as geese, most ducks, and pigeons. Turkeys, as New World birds, are late additions to this list and are not without controversy (Regenstein et al. 2003; Zivotofsky 2014). Retrospectively, the scholars of the Talmud (the commentaries on the Torah) recognized some shared characteristics of permitted birds as a guide to use when tradition is uncertain (Brody 2011). We will discuss these in more detail later.
Similar to mammals, characteristics for aquatic life are clearly stated: "you may eat anything that has fins and scales." (Lev. 11:9, Deut. 14:9–10). Shellfish of all phyla are thus expressly forbidden, as are eels and catfish. Some debate surrounds the nature of scales. The Orthodox view is that proper scales (kaskeses; Orthodox Union 2013) must be able to be removed without tearing the underlying skin and be visible to the naked eye. Orthodox Jews thus usually accept only fish with surficial ctenoid or cycloid types of scales and reject sturgeons, which possess ganoid scales (Donin 1972; Regenstein et al. 2003). Because swordfish lose their scales during growth, many but not all Orthodox also reject them. Conservative rabbis permit both sturgeons and swordfish (Telushkin 1991). Neither group accepts the placoid scales of chondrichthyans (sharks and rays). We are not aware of any discussions of the cosmoid scales of sarcopterygians such as lungfish and coelacanths; it would have to be determined whether they can be removed without the tearing the skin. Aquatic mammals fall under the category of aquatic life and since they lack scales are not kosher.
Almost all other forms of terrestrial animal life are forbidden. Rodents, mustelids, and reptiles are among the unclean: "And these are they which are unclean unto you among the swarming things that swarm upon the earth: the weasel, and the mouse, and the great lizard after its kinds, and the gecko, and the land-crocodile, and the lizard, and the sand-lizard, and the chameleon (Lev. 11:29:30) …" "Swarm on the earth" has also been translated as "creeping things that creep upon the earth" (King James Bible and elsewhere).
Nearly all insects are specifically prohibited in Leviticus (11:20 and 11:42): "All winged swarming things that go upon all fours are a detestable thing unto you… you shall not eat, among all things that swarm on the earth, or anything that walks on fours, or anything that has many legs." Why flying insects were identified as having four and not six legs is not clear but may be related to the section "but these you may eat among all the winged swarming things that walk on fours: all that have above their feet, jointed legs to leap with on the ground" (Lev. 11:21). In other words, those that have rear jumping legs in addition to four anterior legs. The section goes on to list specific permissible insects: "locusts of every variety; all varieties of bald locust; crickets of every variety; and all varieties of grasshopper." All of these are members of the Order Orthoptera. Since European Jewish communities have long lost the tradition of eating orthopterans, observant Jews of these groups tend to avoid them. They are, however, eaten among Yemenite and Moroccan Jews (Zamore 2011a). One Talmudic section indicates that grasshoppers can be eaten with cheese (Kraemer 2007) and are thus not considered meat. All other insects are unclean and the Orthodox carefully examine and remove visible insects from their fruits and vegetables (Regenstein et al. 2003).
In contrast, Islamic dietary laws are generally are more lenient in terms of permitted (halal) animals (Regenstein et al. 2003). The only animals the Quran specifically declares as haram (forbidden) are pigs and their relatives "forbidden to you are carrion and blood and swine flesh" (Quran 5:3). Camels, for example, are halal. Additional prohibitions stem from the Hadith, the reports of the sayings and practices of the Prophet Muhammed. These include proscriptions against carnivores, birds of prey, and animals that live part of their lives in both land and water (e.g., frogs, crocodiles, and seals). However, there are differences among different Muslim groups (for example, Sunni and Shia) on these and other prohibitions, such as on shellfish (Regenstein et al. 2003).
Was it kosher?
Determining whether a particular fossil animal would have been kosher depends on the group we are examining. For mammals, fish, and insects, it is an issue of whether we can determine the presence or absence of the simanim. In evolutionary biology, this is equivalent to determining the presence or absence of particular characters. In some cases the characters can be directly observed; in others, we have to use the tools of phylogenetic reconstruction to reliably determine their presence. Birds (and dinosaurs) are trickier; in this case, we will have to mainly argue from reconstructions of ecology and behavior. Of necessity, we will have to largely ignore the concept of mesorah; these ancient animals long predate anyone who would have had a tradition of eating them.
A Virtual Trip Back in Time
If one wanted to eat kosher (or halal) meat in the world today there is no lack of animals that would be permissible. According the UN Food and Agriculture organization, in 2012 there were about 20 billion domestic fowl (primarily chicken, but also turkeys, geese and ducks), 1.7 billion heads of cattle and buffalo, and 2.1 billion heads of sheep and goats (FAO 2013). It is estimated than 90 % of the mammalian biomass on Earth is made up of humans and their domestic animals, primarily cattle; this value has grown several orders of magnitude since the domestication of these animals about 10,000 years ago (Barnosky 2008; Vince 2011; Xiang et al. 2014). Would the same abundance have been available in the ancient past?
One of the joys of paleontology is that one can take virtual trips through time to visit the life of past geological ages. We will now do so, making selected stops to see what animals we can infer would satisfy the rules of kashrut and thus be acceptable to a hypothetical observant time traveler.
The first stop is 120,000 years ago. This was the peak of the last interglacial warm period before the most recent ice age and before humans first reached the New World or Australia. It was thus prior to the extinction event that wiped out many of the large animals in the world, such as mammoths and giant ground sloths (the Quaternary Megafaunal Extinction; Barnosky
2008
; Sandom et al.
2014
). Many of these extinct animals are either ancestral to or related to animals that we would recognize as kosher. In Eurasia, we would find the aurochs,
Bos primigenius
, the ancestor of today's domestic cattle, which went extinct in the 15
th
century, and the giant Irish Elk (
Megaloceros giganteus)
, the largest deer of all time (Fig.
10
a). There would also have been the wild ancestors of modern fowl, sheep, and goats. In the Americas we would be able to feast on abundant ancestral bison (Fig.
10
b), as well as a variety of deer, pronghorns, and turkey. Acceptable fish would be found in fresh and marine waters throughout the world.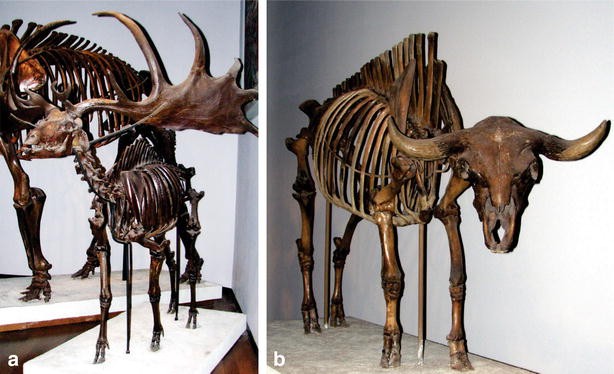 We now jump back 52 million years, the Early Eocene, to the shores of Fossil Lake in what is now Wyoming (Grande 2013), in what we call the Green River Formation. The lake teems with kosher fish, including abundant perch, herrings, and bass. Crickets chirp along the shore (Plotnick and Smith 2012). There are also abundant modern-looking birds including relatives of modern land and water fowl. Mammals are present, but the Ruminantia have yet to appear on Earth. Thus it would seem that an observant Jew would be limited to a non-mammalian diet, consuming only fishes, birds, and orthopterans.
Our next stop is in the Cretaceous, some 67 million years ago, in the meandering river system that would later form the Hell Creek Formation of Montana and the Dakotas (Nudds and Selden 2008). We are some 1 million years before the asteroid impact that probably wiped out the non-avian dinosaurs and many other groups. Familiar dinosaurs abound, including Tyrannosaurus and Triceratops. Locally there are birds, such as hesperornithines, but none of them anatomically or in terms of diet would meet the requirements of kashrut. Primitive but possibly kosher duck and goose relatives (Vegavis), however, are known from Antarctica at this time (Clarke et al. 2005). There are fish, including bowfins, gars, sawfish, paddlefish, and sturgeon; only the first of these is indisputably kosher. There is no fossil record of crickets or grasshoppers from the Hell Creek, but it is likely they were around.
Our final jump is to 310 million years ago, back to the Late Pennsylvanian, to the deltaic environment of what is called the Mazon Creek biota, in northern Illinois (Wittry 2012). Although vertebrate life exists on land, the reptile-like tetrapods of this period predate any mammal or bird and would certainly "swarm" upon the land. Scales and finned bony fish are known, but none have cycloid scales. There are possible ancestors of crickets and grasshoppers, but their jumping legs were not strongly developed.
Of course, our imaginary time traveler is not restricted to eating meat and fish. As discussed in several essays in Zamore (2011b), vegetarianism is a perfectly acceptable option for Jews (and of course, for anyone else!). The key issue is whether the available plants at each period of Earth history would provide sufficient nutrients, such as protein and total calories, for someone to survive.
First, it should be recognized that most plant foods eaten today have been significantly modified under domestication from their ancestral wild form. This domestication happened within the last 11,000 years and was essentially complete by 4000 years ago (Doebley et al. 2006). Prior to that, there would have been edible wild foods, but they would have had much lower nutritive value and thus required intensive gathering.
Plants with seeds date back to the Devonian. Nearly all edible plant foods however, with the exception of such things as pine nuts and fiddlehead ferns, are derived from members of the vast diversity of flowering plants, the angiosperms. The oldest confirmed fossil angiosperms are 132 million years old (Early Cretaceous), but a possible angiosperm has just recently been identified from over 162 million years ago from China (Liu and Wang 2015). Recent estimates made using molecular clock methods (such as described above for Orthoptera) give estimates of 167–199 million year ago for the origin of flowering plants, in the Jurassic (Bell et al. 2010). Nevertheless, angiosperms were relatively minor components of the terrestrial flora until the Cenozoic (Wing and Boucher 1998; Coiffard et al. 2012). Seed size was also small.
The ecological importance of angiosperms rapidly increased during the Cenozoic. A 55 million year old tropical forest contains abundant legumes, seeds, and fruits (Wing et al. 2009). The asterids (lettuce, sunflowers, olives, carrots, potatoes, eggplants, tomatoes, peppers, tobacco, sweet potatoes), which appeared in the Cretaceous, also become widely available during the Early Cenozoic (Manchester et al. 2015), as did nuts. Grasses, which includes wheat, maize, and rice, first occur in the Cretaceous, but grasslands do not spread worldwide until the middle and late Cenozoic (Strömberg 2011).
In sum, as is the case with meats and fish, the further back in time we go, the fewer food options are available. A vegetarian visitor to the Pleistocene or Eocene would have found sufficient resources, given enough time to gather. Before the Cenozoic, however, it is increasingly unlikely that a sustainable diet would have been possible. Our imaginary observant time traveler should pack a lunch!
Discussion
As evidenced by such things as the Clergy Letter Project, many religious groups accept that familiarity with the Bible does not require a literal interpretation of its contents or a rejection of evolution (Kelley 2000). People of many faiths, including many paleontologists, accept both the reality of biological evolution and the importance of the Bible in their lives (Dodson 1999). Even the non-religious accept that the Bible is a foundational document of western society and some edition of the Bible is probably found in nearly every home. Unfortunately, discussions about the Bible and evolution almost invariably focus on a relative small segment of the biblical text; namely, the sections dealing with creation and their conflict, when read literally, with scientific views of the age and history of the Earth. The result has been the large literature on "evolution vs. creationism." (e.g., Scott 2004; Scott and Branch 2006) and the public perception of the incompatibility of faith and acceptance of evolution.
We would like to suggest a novel approach: that knowledge of the biblical texts can also be used to spark an interest in the concepts and methods of paleontology and evolutionary biology. Focusing on areas of the texts other than Genesis may make these ideas more interesting and palatable to people of faith. In particular, the topic we discuss here, "Kosher paleontology," could be used for conversations about evolution that are lighter and more entertaining. We can envision this topic being presented as part of adult education to diverse faith communities, as well as in wider public venues such as the numerous local "science pubs." The time-travel aspect might be appealing to science fiction fans.
This approach should attract interest well beyond the Jewish community, only a minority of which themselves strictly follow the dietary laws. First of all, "kosher" is a widely familiar slang term among Americans, coming to mean legitimate or proper, as in "is downloading this movie kosher?" Second, kosher foods are a major growth market among the wider population. According to Forbes, products identified as kosher are increasingly common in supermarkets and were projected to generate $17 billion dollars in sales in 2013. The majority of purchasers are not Jewish or Muslim and do not buy them for religious reasons, but for inferred superior quality or health benefits (Faw 2013). We see the topic of "Kosher paleontology" as a hook or gateway into field of paleontology and an exploration of its data and methods.
Declarations
Authors' Contributions
All authors contributed equally to the drafting of the manuscript. All authors read and approved the final manuscript.
Authors' Information
REP is an invertebrate paleontologist at the University of Illinois at Chicago. He has an eclectic range of interests, including functional morphology, fossil preservation, and landscape ecology. JMT is a vertebrate paleontologist at the University of Calgary. Her research focuses on understanding the causes of organismal diversity patterns found over geologic time, particularly that of ungulates. TRH is a vertebrate paleontologist at the University of Maryland, College Park. He studies the phylogeny and functional morphology of the theropod dinosaurs, especially Tyrannosauridae.
Acknowledgements
We would like to thank Anthony Martin, Emory University for first raising this question. Our research into the arcana of the kosher rules were greatly helped by discussions with Rabbi Mary Zamora, Rabbi Max Weiss, and Joe M. Regenstein; the latter two also commented on the manuscript. Nathan Jud helped with the discussion of ancient plants. JMT thanks Michael Chabon and Neil Gaiman for their interest and encouragement. Reviewers David Fastovsky and Patricia Kelley are warmly thanked for their comments. No pork was consumed by REP or JMT in the writing of this paper.
Compliance with Ethical Guidelines
Competing Interests The authors declare that they have no competing interests.
Open AccessThis article is distributed under the terms of the Creative Commons Attribution 4.0 International License (http://creativecommons.org/licenses/by/4.0/), which permits unrestricted use, distribution, and reproduction in any medium, provided you give appropriate credit to the original author(s) and the source, provide a link to the Creative Commons license, and indicate if changes were made.
Authors' Affiliations
(1)
Department of Earth and Environmental Sciences, University of Illinois at Chicago, Chicago, USA
(2)
Department of Biological Sciences, University of Calgary, Alberta, Canada
(3)
Department of Geology, University of Maryland, College Park, USA
(4)
Department of Paleobiology, National Museum of Natural History, Smithsonian Institution, Washington, USA